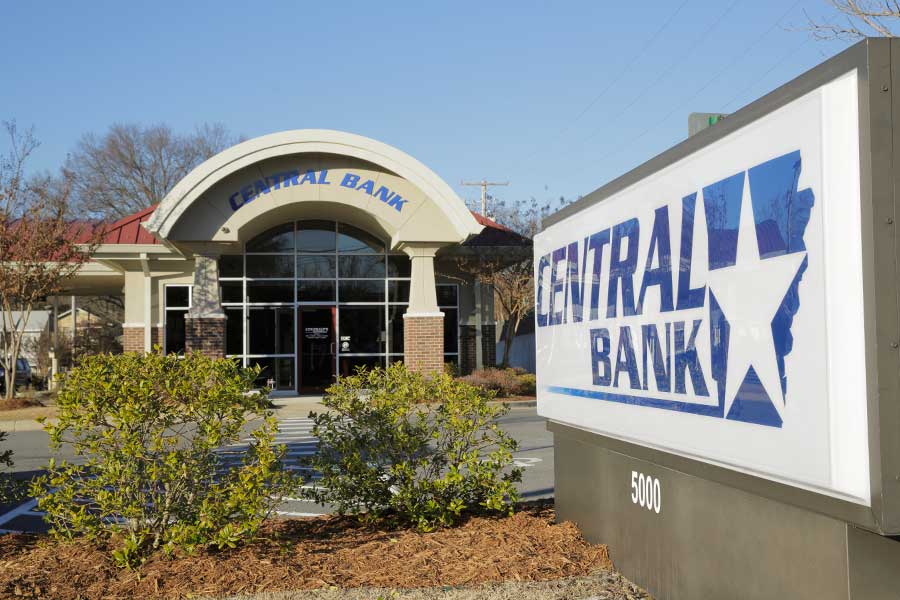 Central Bank is a full-service bank.
Arkansas chartered financial institution that was founded in 2007 by Arkansas investors who are committed to the growth and success of the communities that the Bank serves.
Central Bank has steadily grown in asset size and market share since its formation, largely through organic growth and the merger of the affiliated Pinnacle Bank, Rogers, AR. This growth and success if fueled by our focus on building personal financial relationships via attentive and personalized service this is provided by a very experienced and stable staff.
Your Personal Banker
Larger financial institutions primarily provide personal/private banking services to customers with large account relationships, but we at Central Bank provide this same level of service to all our patrons. We know each of our customers by name – not just account numbers. When you call you are guaranteed to speak with a knowledgeable Central Bank representative so there is no getting lost in a "phone tree" or trying to work with someone located in another state or country. Additionally, all our staff is eager to answer your questions and to help you find the best financial product or service to satisfy your banking needs.
Mobile Banking With Mobile Deposit
One of Central Bank's goals is to make it easier for you to bank wherever and whenever it's convenient for you. We are focused on being always accessible with online and mobile banking making it easy to "bank on the go".  The CentralBankAR Mobile Banking app is fast, secure, and free. You can check your balances, pay bills, transfer money, make deposits, and locate ATMs and banking centers using your smart phone, I-pad, or tablet.
Commercial Accounts & Loans
For our business customers we offer a wide range of commercial deposit product options to fit any size business. We also "bring the bank to you" by providing free remote deposit capability whereby you can make deposits and transact related transaction at your convenience without physically coming to the bank.
Whether you're looking to buy, build, expand, remodel or relocate, our commercial lending experts can help with competitive, flexible lending options and fast local loan decisions.
What about merchant services for your business? We have a solution for that too, designed to be economical and easy with your local community bank helping you from step A to Z on getting set-up!
Consumer Banking
Need a loan? And need it fast? At Central Bank, we make loan decisions quickly – not days or weeks like at many banks. Get competitive, interest rates on loans for cars, boats, and recreational vehicles. We also provide personal loans and home construction loans.
We're committed to helping our customers manage their finances now and also plan for the future. We work with commercial and individual customers to determine accounts and products that best fit their financial needs. From money market accounts, savings accounts, certificates of deposit (CDs), IRAs, and Health Savings Accounts (HSAs) our experienced operations staff can assist you.
Contact us and see how the Central Bank difference can help simplify your business and personal banking. Call 501-221-6400 or stop by one of our three locations – in Northwest Arkansas at 3001 SE J Street in Bentonville or in Central Arkansas at 5000 W. Markham Street or 1506 Market Street, Little Rock.